Are you a landowner or manager, or representative of an area in the South Downs National Park who may be interested in creating more pollinator habitat?
The iconic chalk grassland of the South Downs attracts a multitude of bees and butterflies with its array of stunning wildflowers.
Supporting our Pollinators – We already work with landowners across the South Downs to plant new wildflower corridors connecting pockets of species-rich chalk grassland. We want to do more!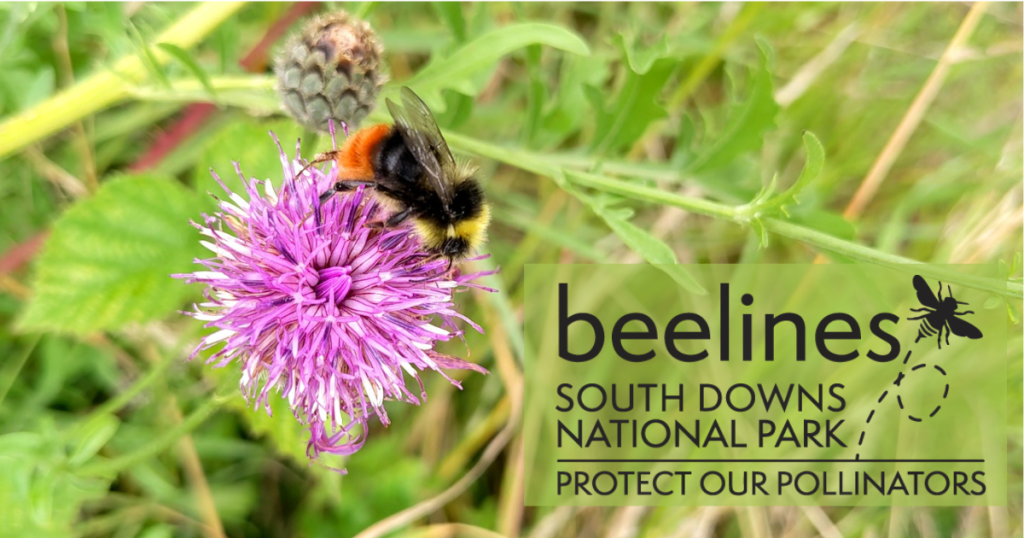 What does Beelines fund?
Beelines grants can fund costs associated with establishing or restoring pollinator habitat. This could be the costs of wildflower seed, equipment, cut and collect mowing services or machinery hire for ground preparation ahead of sowing. In some circumstances we have supported infrastructure to support conservation grazing projects on farms.
Sites must be within the South Downs National Park. Check here: Do I live in the National Park? – South Downs National Park Authority.
Grants are not usually more than £5,000 – please see the guidance notes below for more information.
Who can submit an Expression of Interest?
We have re-opened the Beelines Grant and are now accepting Expressions of Interest.
You will need to be the person/organisation who owns, or is responsible for the site, or applying with their permission.
How to submit an Expression of Interest
It's not necessary for you to have detailed information and costs, but the more information you have the better! The process is to identify a number of projects that can be developed in more detail with advice from conservation professionals.
Before you fill out the EOI Form, please read the Beelines guidance document, which sets out the criteria and process in more detail.
If you have any questions about the process please contact Grants Officer on 07471 997344.
Download the Beelines Guidance Notes
Beelines Expression of Interest Form
Deadline is 31 January 2024.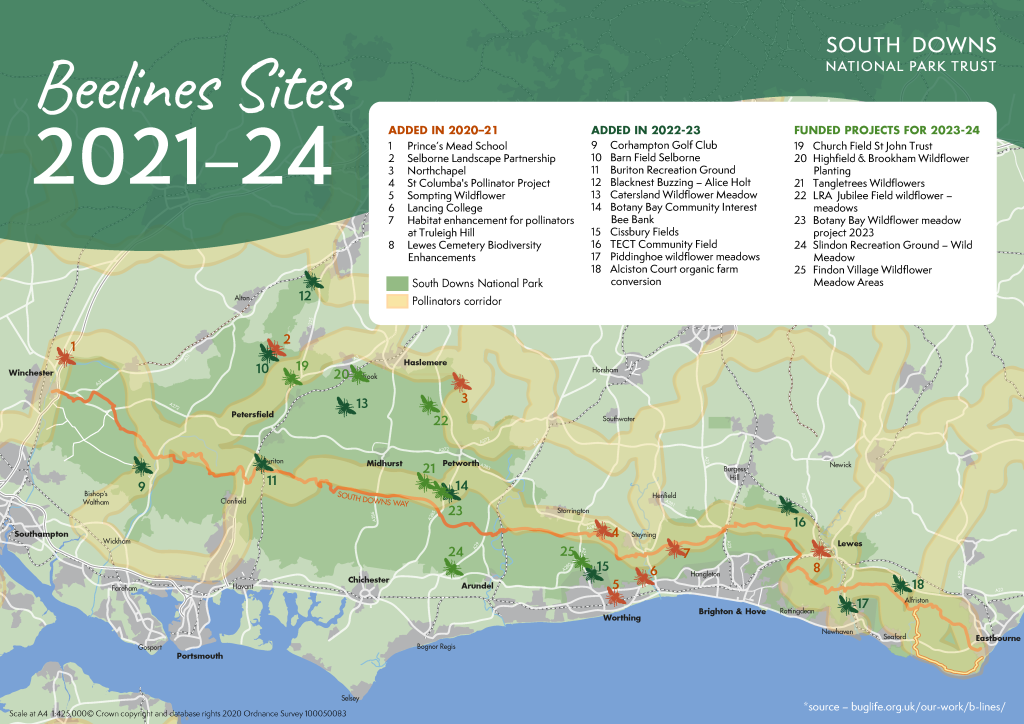 Need inspiration?
Watch this short film about a dormant plot at Southerham Lane in Lewes. Owner Gavin Williams approached the National Park to convert the field into a haven for pollinators.
The result is something really very special.
---
Beelines is possible with special thanks to our supporters:
The many individuals who have donated
Aspinal of London
The Boltini Trust
Chalk Cliff Trust
Friends of the South Downs
Jude's
Nyetimber
Our Founding Patrons
South East Water
Southern Co-op
---
How to Donate
Help us to support more Beelines projects