In a world increasingly removed from nature, it is more important than ever to engage young people in conservation.
Through our Youth Volunteering work we seek to increase the opportunities for young people to engage in the outdoors.
What is South Downs Youth Action?
We know that young people are passionate about nature and the environment, perhaps like never before in history. We want to ensure that young people are given the chance to get involved with the amazing range of activities happening in the South Downs National Park.
South Downs Youth Action (SDYA) is a youth volunteer programme run by the South Downs National Park Authority. Activities are led by our ranger teams and project staff who have a wealth of experience and knowledge in areas such as wildlife conservation, land management, cultural heritage, access to the countryside and environmental campaigning.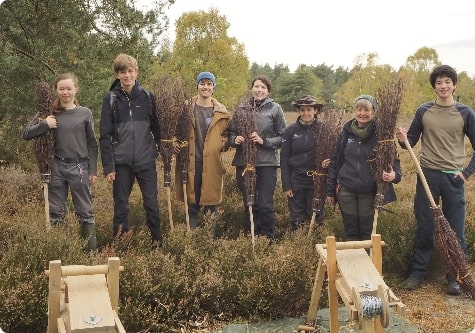 SDYA run volunteering 'action day' sessions for young people aged 16-25. The aims are:
To make a difference for the environment
Get experience towards a career
Meet new people
Support a college or university course
Try something new
Experience the South Downs
#iwill Fund
In partnership with Clarion Futures, the National Lottery Community #iwill Fund offers grants to partner organisations to fund youth volunteering opportunities that can be included within our Youth Action programme.
Taking place over the summer and autumn holidays, action days are devised with partner organisations to give young people diverse experiences and also to encourage other organisations to involve young people.